About Prolet Property Services
We combine lettings expertise with top-notch customer service. The result? Successful property owners and happy tenants.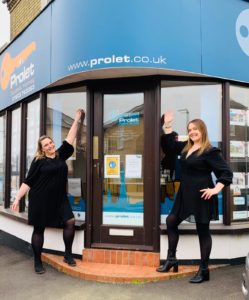 Who We Are
Where We Started
Prolet Property Services was founded in 1993 by Jonathan Wheeler and brothers Jonathan and Steven Grady. Their goal was to share what they'd learnt from their own early days of owning and managing rental properties.
Before starting Prolet, Jonathan, Jonathan and Steven had personal goals to see good returns on their property investments, together with offering high quality, good value homes to rent in and around Norwich. Once they'd found the best ways to hit these goals, they wanted to help other investors to get the most from their properties, and Prolet was born.
Where We Are Today
The ethos of everyone at Prolet is to balance the needs of both property owners and tenants. So we continually strive to offer a good supply of rental options to the local market. And we make sure that a Prolet rental property feels like home to its tenants.
We have grown into a small team of friendly and experienced letting specialists working in the heart of Norwich. We've based our office in the thriving Golden Triangle area of the city, which is an area we know and love.
Firmly established as a leading agent within both the residential and student sectors, we supply homes to families and professionals, as well as students at the University of East Anglia (UEA) and Norwich University of the Arts (NUA). We have dedicated people to help tenants find the right home and are always on hand for accommodation advice and a friendly chat.
For our flourishing community of property owners, we offer up-to-date advice on all relevant new legislation, steering them through the pitfalls of the housing market and taking away the time-consuming day-to-day property management for them. Even if we aren't managing your property, we are always happy to offer help and advice.
 Meet the team to find out more about us.
Why we're different
We've built a reputation as one of Norfolk's most reliable, expert, and trustworthy property rental agents. Here's why.
We are:
Lettings Specialists: The sole focus of our business is, and always has been, home lets. As a result, we concentrate on the residential rental market without getting side-tracked by property sales or commercial lettings.
Independent: Owners Jonathan Wheeler, Jonathan Grady and Steven Grady are all landlords themselves, giving us first-hand knowledge of life as a rental property owner. As an independent agency, it also means we have a handpicked team of trusted maintenance contractors and can regularly develop our service to stay in tune with our customers.
Knowledgeable: Not only are we lettings experts, but we also know the ins and outs of life in East Anglia. We know Norwich and Norfolk inside out – from the best cafés in town to where to service your car.
Professional: Exceeding industry standards has always been integral to our business. The lettings industry is increasingly regulated to protect both tenants and property owners. As a result, we are members of all letting industry organisations and make sure our landlord community is up to speed on everything they need to know to keep their tenants and property safe.
Approachable: Keeping our team and property portfolio small means we can dedicate time to keeping owners and tenants happy. Our close-knit team is friendly, supportive, and always willing to help with all your property questions.
Memberships, Standards and Certifications
We insist on the highest professional standards and, for the benefit and protection of our property owners and tenants, we are members of all relevant letting industry-approved organisations.
As part of the UK Association of Letting Agents, we are CMP certified and covered by the UKALA Total Loss CMP Scheme. For more details, please read the Client Money Handling procedures.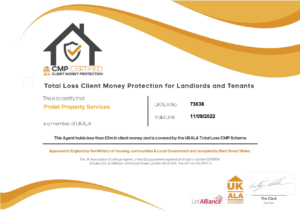 Client love
Here's what our clients say about us.
"I had a fantastic experience renting with Prolet both as a student and whilst employed. The team was very responsive and helpful, and I never had an issue when I was with them. I highly recommend Prolet services to students or anyone else looking to rent in the Norwich area."
                        Ashley P | Student Tenant and Residential Tenant
"I have been fortunate to have rented through Prolet. They have been in the letting business for many years and really know and understand the needs of tenants and landlords. If anyone needs the services of a letting agent, I always suggest they use Prolet as their first choice. The staff are all friendly, helpful, and professional. They have access to the best tradespeople in Norfolk, so if there are any issues with your home, you can rest assured that all will be sorted asap."
                        Ali D | Residential Tenant
"I moved from another local agent to Prolet to manage my student property about 3 years ago, and the experience has been very positive. They are extremely professional in managing the property and dealing quickly and efficiently with any issues. With their expertise and local knowledge, they also provide sage advice on how to optimise my property's attractiveness. My only regret is that I didn't move across to them earlier."
                        Christopher D | Landlord
We're Ready For You
Contact us, or call 01603 763363