A Guide For New Student Renters
Are you on the cusp of starting your journey as a new student renter?
Once Fresher's week is a dim and distant memory, students start thinking about who they will be looking to live with next year and where. For many first year students, this means a move from halls and into private rented accommodation.
New to Renting?
If you are new to renting student property here are a few key points to note.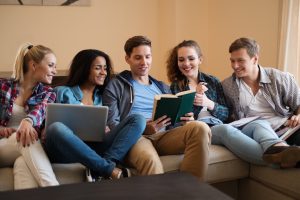 Application Forms 
When you find the property you want, you will need to complete an application form. The Landlord or Letting Agent won't automatically grant you a Tenancy, but they will take the property off the market (subject to contract). The property will also be withdrawn from any advertising while your application is processed.
Guarantor 
Student tenants usually require a Guarantor who is needed to support your application financially. Typically, this is a parent, relative or guardian and must be a property-owning EU resident.
Deposits 
A security deposit is required for the large majority of rental accommodation, whether or not you are a student. Typically this equates to 4-6 weeks rent. 
Paying a deposit helps ensure that tenants leave a property in the same condition at the end of the tenancy. Your Landlord or Letting Agent may ask you to pay the deposit at the time of application. 
We recognise that there is often quite a gap between securing your accommodation and moving in, so we ask for the deposit a month before the tenancy is due to start. You may find this isn't the case for all Landlords and Letting Agents.
At Prolet, we are members of the Tenancy Deposit Scheme (TDS), a scheme that protects your deposit from being lost or unfairly withheld. 
Bills 
The majority of private student housing is exclusive of bills, so it is your responsibility to set up and pay for all the utilities.
Many of our student tenants use Huddle which combines all your utility bills in one place and also offers the cheapest all-inclusive bill packages.
Inventory 
When your tenancy begins and you move in, we take an inventory.
An inventory protects both you as a tenant and the landlord and is evidence of the property condition when you moved in.
Make sure you go through the inventory and that it is as comprehensive as possible to make it easier for everyone when it comes to moving out.
Developing a Cleaning Habit
The main reason for delays in deposits returns are dirty properties. They can mean cleaning expenses are deducted from your deposit at the end of your tenancy. If you take time to keep your house clean and maintain the garden if you have one, you are much more likely to have your deposit returned. Even just a tiny amount of time each week makes a difference.
Don't Be Afraid To Speak Up
It's much better to speak to your letting agent or landlord about broken items as they happen. Saving things until the end of the tenancy can make problems fester. At Prolet we use an online maintenance reporting system that ensures everyone gets the information they need.
Want More Info?
We know that finding your new student home is exciting but also potentially daunting. We are here to help you every step of the way.
For more information or advice drop us a line at student-enquiries@prolet.co.uk or call us on 01603 763363.