Living in the Golden Triangle of Norwich
It's no surprise that a large proportion of our rentals are located in the Golden Triangle area of Norwich. The area is incredibly popular for students, professionals and young families looking for their next rented accommodation.
Unthank Road is often cited as the centre of the Golden Triangle and the area was broadly a wedge-shaped area between Unthank Road, Earlham Road and Christchurch Road. More recently it has been expanded to include the areas between Unthank Rd and Newmarket Road and Earlham Road and Dereham Road.
Location wise, the area is a short walk to the city centre and both the University of East Anglia and Norwich University of the Arts, but what else makes the area so appealing?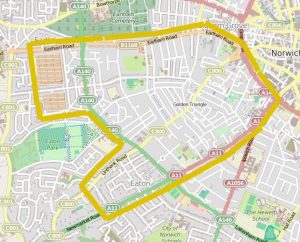 A couple of years back the Golden Triangle was named in the Sunday Times' annual Best Places To Live largely due to a mixed demographic of students, families and professionals which create a cosmopolitan vibe. 
What is the Golden Triangle?
It's tree-lined streets and characterful houses boast an enviable variety of shops, restaurants, café's and pubs. As a result, it has been dubbed 'the Notting Hill of Norwich'.
A Fantastic mix for everyone
Every choice of food, drink and entertainment is catered for. In particular, Breakfast is big news and many local pubs and cafes serve brunch on Saturdays and Sundays.
The area has such a buzz to it – a sentiment that is difficult to put into words, and its sense of community makes it feel a very safe place in which to live and play.
We love the Golden Triangle
We love it so much we chose to work in it too with our offices in Swansea Road.  As a result, we regularly utilise the choice of food and drink on offer – in particular the Green Grocers on Earlham Road for their delicious baked goods!
We feel that it's the many great places to eat, drink and socialise that makes the area so special. Whilst it's difficult to whittle them down to a few, here is a selection of our other favourite spots.
Some Favourite Spots in the Golden Triangle
The Unthank Kitchen is fantastic for a hearty breakfast after a heavy night out and caters to a range of different diets. Their choice of breakfast is mega and served until 2.45pm at the weekends.
The Unthank Arms, a traditional Victorian pub with a great selection of real ales. The food is superb which makes booking advisable.
The Blue Joanna caters to those who like music with their food or drink. An emphasis on Asian-style street food is enhanced with vinyl record and live music. They also have some amazing cocktails.
Warwick St Social dubbed the social hub of the Golden Triangle, is notable for its food being inventive and its drink choice extensive.
Living in the Golden Triangle
Living in the Golden Triangle puts you at the heart of everything this area has to offer. Take a look at the current tenancies available in the Golden Triangle >>