House Sharers – Are You Dirty?
Dirty properties are one of the key sources of arguments amongst house sharers. They are also the main reason for delays in deposits being returned at the end of a shared tenancy, or for cleaning expenses having to be taken. >>
Develop a Cleaning Habit
The best way to avoid deposit discrepancy problems at the end of the tenancy is to clean as you go along – little and often can avoid a hefty cleaning session further down the line. It can also help to keep harmony amongst house sharers!
We want to do everything possible to help your property to stay in its best condition, for both current and future tenants. Use our cleaning guide to know what we check for at the end of a tenancy, so you can get a head start on making your move out inspection quick and pain-free and help your shared tenancy stay a happy one.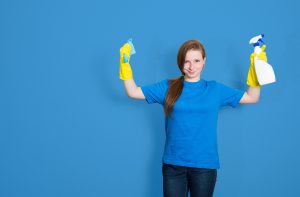 BEDROOMS, LIVING ROOMS AND HALLWAYS
Ensure the carpets or floors are cleaned regularly – as are window frames and sills, furniture and skirting boards. Try not to use blue tack on the walls as it can create horrible stains that are really difficult to shift and may need repainting.
KITCHENS
Regularly clean all work surfaces, kitchen units (inside and outside), skirting, floor and tiling clean. Every so often deep clean all appliances inside and out.
BATHROOMS
Clean the toilet, sink, bath and showers regularly to avoid stains that build up and get harder to shift as time goes on. Every so often deep clean the tiles, grouting and seals and remove any visible limescale.
Stick To It
Once you have all agreed to take on regular cleaning, the dilemma comes in sticking to it and sharing jobs fairly. A rota might fill you with dread but it can really help the house harmony. For some great ideas on putting together your cleaning schedule and more cleaning tips take a look at these recommended sources:
How to Make an Efficient Weekly Schedule >>
How to Create a Cleaning Schedule That Really Works >>
How To Survive Shared Living >>
Useful Apps For House Sharing >>