Marketing Your Rental Property as Furnished or UnFurnished
A common question we hear amongst prospective landlords is whether they should market their property as furnished or unfurnished. Whilst there is no right or wrong answer, the decision will influence the type of tenant you attract and impact on the likelihood of finding tenants.
To help anyone with this current dilemma, we've put together a handy guide on helping you to decide which route to take.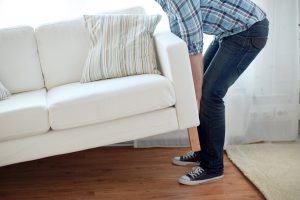 Should you market your rental property as furnished or unfurnished? Let's take a look at the factors to consider.
---
What's The Difference Between Furnished and Unfurnished Properties?
Before delving into the in's and out's of furnished versus unfurnished properties, it's worth outlining what the two options mean.
It may surprise some, but unfurnished properties still require a few basics such as carpets, kitchen and bathroom fittings. Tenants also rightly expect curtains or blinds and certain kitchen items such as a cooker and fridge. In today's rental market, there is also increasing expectation that additional items such as a washing machine will be available even if a property is listed as unfurnished.
Once your list your property as furnished, the requirements become more straightforward. As a guide, think about everything you yourself would need to live comfortably. For most tenants would include beds, sofas, wardrobes, table chairs and storage.
Some landlords worry that furnishing a property, particularly a small one, can be cluttered and cramped. An alternative if this is the case is to go part furnished, with tenants supplying the extras that they feel they can't live without.
What type of tenants do you want to appeal to?
The best way to consider which route you take is to think about who you are appealing to. As a landlord, your first thought should always be to offer what people are looking for. So take a step back and think about the needs of your tenants.
Furnished lettings are a must if you want to rent to students. As it's their first home away from their parents, most students are unlikely to have furniture of their own.
Young professionals often need to move swiftly from property to property for work purposes and are more likely to look for furnished properties.
Local businesses that need rental properties for employees on short-term contracts tend to look for furnished properties to allow things to happen as quickly as possible.
Couples or families often already have furniture, so they are more likely to look for unfurnished properties. They are more likely to be looking for longer-term lets and have already built their own furniture collection. Alternatively, they may be 'between houses' and don't want to pay for storage.
What type of property are you looking to rent out?
If your property is suited to couples and families, an unfurnished property might be the best option. These could be countryside properties, modern city centre apartments or properties located in the suburbs.
On the other hand, furnishing your property would be advantageous if you have a property that will easily rent to house sharers such as students or young professionals. These include properties in good locations for local universities and properties offering substantial communal areas.
Financial considerations
There are cost implications for choosing furnished or unfurnished. It can be costly to fully furnish a property in a way that appeals to tenants. There is the upfront cost of providing the furniture and maintenance and regular replacement of items to factor in.
However, as furnished properties are more appealing, they can save you money and increase your investment in the longer run. Moving to a furnished property saves tenants money, so they are willing to pay more for a home with furnishings included. It can mean up to 8% more for a flat and 3% more for a house.
In addition, it's easier to market a well-furnished property. They look more appealing, and they can help potential tenants to imagine themselves living there. As a result, furnished properties are often snapped up rather than left languishing on websites and in window displays. A further reason for shorter periods of your property sitting empty is because tenants don't need to organise removal companies, which can add up or cause issues with unfurnished properties.
Furnished or Unfurnished – Still Undecided?
Whilst there are pro's and con's to both routes if in doubt, furnished is the most favoured. It appeals to tenants and makes your property more marketable.
Whichever route you choose, your crucial consideration should be your tenants. You want to make the best return on your investment, and the right way to do that is always to provide what people need.
And as a landlord, if you offer an element of flexibility, your can appeal to an even wider group of potential tenants. For example, providing a furnished property doesn't mean you can't meet the needs of those wanting to bring their furniture with them. It's easy for you to put your furniture in storage or utilise it at another property.
If in doubt, get in touch, and we can talk through your property, its location, your ideal tenant and what you are looking to achieve.