Prolet's Emergency Procedures
If you are a Prolet tenant, follow our list of emergency procedures for what to do and who to call.
Is it an EMERGENCY?
Lots of things can go wrong and can feel like an emergency.
However, emergencies that pose a threat to life always take priority. So if:
There is a fire or
You can smell gas
1 – GET OUT OF THE HOUSE.
Securing the safety of those in the house comes first. Do not stop to collect items or make calls. Shut but don't lock doors on your way out. Do not turn electric switches on or off. Do not smoke or use naked flames.
2 – CONTACT THE EMERGENCY SERVICES.
When you are clear of the property contact:
Gas leak – National Gas Emergency Service 0800 111 999
Police/fire/ambulance 999
3 – CONTACT PROLET.
Call 01603 763363 and speak to a member of staff during office hours, or leave a message
For Any Emergency
For any emergency, as soon as is practical, please call Katrina Harrison or Rochelle Warren on 01603 763363. Office hours are Monday to Friday 9am to 5pm and Saturday 9.30am to 12pm.
Out of Hours Emergency Contacts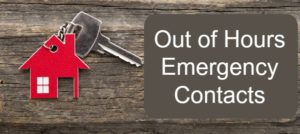 PLEASE: Only call the emergency numbers if you have tried to rectify any problems where possible and safe to do so. This will mean that real emergencies get the priority attention needed. Unless highlighted, all contacts are for 24 hour, 7 days a week emergencies.
*************************************************************************************
Emergency electricity failure – 0845 6014516
Water supply and overflowing external sewage – Anglian Water 0800 145145
Emergency Electrician – Alpha Electrical 07885 787848
Gas safe engineer & plumber – Sovan Gas 07885 244138
Locksmith – Thorpe Locks 07901 544526
Plumber – Mark Rush 07831 673306
Glaziers – City Glass 01603 510437 or 07946 430735
Police non-emergency – 24 hours – 0845 456 4567
Drain clearance/sewerage* – All Clear Drains 07887 596287
*7 days a week 7am to 5 pm
*************************************************************************************
Further Guidance and Useful Information
In an emergency, we always want to help. However, it is worth noting that tenants will be responsible for the cost of emergency call-outs if:
The repair is due to negligence or misuse on the part of the tenant or
The repair is not considered to be an emergency.
IN THE CASE OF FIRE
Always use the fire blanket first where provided – Report all used fire extinguishers and blankets to Prolet
Do not use any extinguisher for frying pan or fat fires
Leave the property as quickly as possible, shutting but not locking all doors
IN THE CASE OF A GAS LEAK
If you know where the gas supply is, turn it off – this will be either inside the property, kitchen or under the stairs or in a box on the side of the house. However, if you do smell gas don't waste time trying to find it, if it stops you leaving the house. Find out now where your supply is, in case you should ever need it.
Phone Prolet on 01603 763363 to advise of the situation as a follow up visit by a Gas Safe Engineer may be required – Transco may disconnect the supply for safety reasons but will not generally carry out any required repairs/leaks.
IN THE CASE OF A WATER LEAK
Turn off the water supply at the internal stopcock or external stopcock
IN THE CASE OF A POWER CUT
If you have a power cut please telephone EDF, your local electricity distribution company or your electricity company provider, ie, N Power, E-On, etc.
Please check that your fuse board has not tripped out. If the main switch has tripped please reset the fuse board. If the sockets have tripped unplug all appliances and then re-set, if this solves the problem then you may have a faulty appliance, please then plug in each appliance to establish the faulty one. If it is your Landlords appliance as listed in the inventory please inform Prolet at the earliest convenient time.
Faults and Repairs
Boilers
If you have a pilot light please ensure this is alight and has not blown out. There should be instructions either provided or on the boiler on how to reset/relight the boiler. Ensure all radiator valves are switched on and thermostats turned up if the radiators do not appear to be heating up. Do not attempt anything other than re-setting/re-lighting the pilot. Please ensure also that the boiler isolation on/off switch has not accidentally been switched off.
For all other maintenance repairs during office hours please contact Prolet on 01603 763363
Washing machines
If washing machines are not finishing the cycle or draining please check the filter is not blocked.
Blocked kitchen and bathroom drains
 Please check there are no obvious blockages, food debris down kitchen sinks or hair blocking bath and shower wastes by using products such as drain cleaners or a plunger
Pest control – Norwich City Council 0344 9803333
Please report any pest issues to Prolet immediately. Pest control charges may be passed back to tenants if it is shown that it is due to tenant negligence that an infestation has occurred.